Hendrik was the son of Jan Teune, who was the older brother of Johannes Teune.
This photo is courtesy of Professor Henry Teune of the University of Pennsylvania.
The family tree information came from Edith McGehee of Placid Lake, Florida.

---
Here is a family portrait of Hendrik Teune and his family. The standing children from left to right are Harry (Hio), Elizabeth (seated), John (the eldest and named after Hendrik's father Jan), Julius (Jilis), and Daniel. Hendrik's wife was Ida and the youngest is Jacob.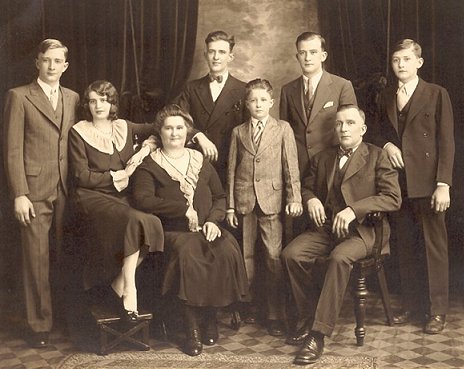 Heinrik (Hendrik, Henry) Teune came to the USA in 1905 from Groningen. Born in 1880, died in 1965. He married "Ida" Koopmans who came to the USA in 1906 from Friesland. I do not know what her first name in Dutch was. She was born in 1880 and died c. 1956. They lived for a short time on the near north side of Chicago, and then moved to the old West Side, first on 15th Street, then 1456 Ashland Ave., then a short walk away to 14th Place. From there they moved to Ridgeland Ave. in Berwyn, and then to Cuyler Ave. Ida died while residing on Cuyler. Opa then went to live with his daughter, Elizabeth Tameling in Wheaton until his death.
The children were:
1. John(Jan), b. 1907, d. 1980. He married Alice Koelikamp, b. 1907, d. 1993. One daughter, Edith B. John & Alice lived on the West Side, Englewood, and South Holland
2. Son Julius, born c. 1909, died c. 1977. He married Grace Vander Veen, two sons, Henry (professor of political science at the U. of Penn. in Philadelphia), and George, retired police commissioner from Illinois, now living in South Florida. Aunt Grace is now living in North Miami.
3. Daughter Elizabeth, born c. 1912, d. 2001, married Nick Tameling (brother of Herman, Henry, & Ben, and other sisters). They had 7 children. Henrietta, b. 1935, married Roy Molenhouse from the Cicero-Berwyn area. They had 5 children. She was widowed in her 40's and married a man named Robert Hult. She is widowed again. Edith, b. 1936, d. 1942 (killed in a truck accident) Peter, Joan, Edythe, Nick Jr., and Betty Jean are the other children. Pete, Edie, and Nick Jr., live in the area of Wheaton and West Chicago.
4. Son Harry, born c. 4 Aug. 1913, married Cornelia Venhuizen, had 3 children, Constance, Harry Ronald, and Marilyn. The last I heard was that Harry and Cornelia are living in Indiana. The kids, as far as I know, live in or around Chicago.
5. Son Daniel, born c. 1915, died in the 90's, married Ann Novak. They had one daughter, Diane. Don't know her married name.
6. Son Jacob, b. 1918, d.1941. Unmarried.
---