This is a family picture of my father's mother's family taken in the Netherlands circa 1912.
Back row, from left to right: Jacob, Helen (or Hieke, or Ike, my grandmother), Garrit, Hemke, John (or Jan, also emmigrated to the US in 1913 with Helen and his wife, Hendrita). Front row, left to right: Grieto, Jantje, Frouwke (or Frauke), Hendrik and Herman.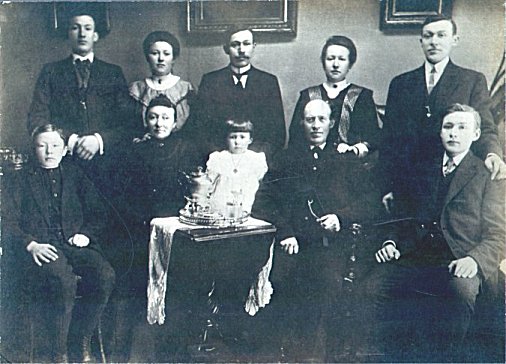 ---
Here is the family history of my father's mother, Helen Bulthuis given to us by a relative who visited from the Netherlands in 1979 (see picture below).

I. Isebrant Theunis (Isebrant, son of Theunis) and Anje Hilberts (Anje, daughter of Hilbert) lived in Farmsum in 1736. Farmsum is a village by the sea in the province of Groningen. It was not possible to research where they came from, so we have to begin this treee with these two people. They had two children. Tonnis and Jan. Jan was baptized in Farmsum, Sept. 9, 1736. He married Trintje Hendriks in Nov. 5, 1760. We have no further information about Jan.

II. Tonnis Isebrants was born sometime before 1763 probably in Farmsum. He lived on the "Bult" in Tuikwerd. Tuikwerd is a little village near Farmsum. A "bult" is a little hill to protect people from overflooding by the sea. Tonnis married Duwke Luitjens in April 6, 1755. Duwke was the widow of Pieter Thies. Tonnis and Duwke had three children, Antje, baptized July 11, 1756, Ysebrant, baptized Sept. 20, 1760 and Frerik (Freerk) baptized Oct. 17, 1762.

III. Freerk Tonnis Bulthuis (Freerk, son of Tonnis from the house on the "bult") was baptized in Farmsum and died Feb. 4, 1817. He married Elje Luitjens on June 6, 1790 and after her death married Anje Hendriks on July 6, 1806. They had six children.
1. Auke 1792-1830,
2. Luitjen born March 8, 1795,
3. Tonnis born Oct. 7, 1799,
4. Auke born Jan. 23, 1803 (uncertain),
5. Hendrik born May 23, 1807, and
6. Elisabeth born 1813, died 1814.

IV. Luitjen Freerks Bulthuis born March 8, 1795 was a carpenter. He married Grietje Klasens Scharphuis on June 12, 1817 in 'Tzandt (northern part of Groningen). Grietje was the daughter of Klaas Jacobs and Jantje Jans. They had four children who lived to adulthood:
1. Jan, born Oct. 13, 1817,
2. Klaas, born June 30, 1820,
3. Freerk, born June 20, 1832 and
4. Jantje, born Sept. 5, 1839.

V. Jan Luitjens Bulthuis, born Oct. 13, 1817 was the owner of a grocery store in Wirdum. He married Hemke Jacobs Tillema. Hemke was born May 31, 1818 and died 1888. They had four children:
1. Grietje born Feb. 25, 1847 and died March 15, 1916. She married Aldert Ham (09/14/1841-05/12/1916).
2. Jacob born Jan. 11, 1850, died March 21, 1936. He married Evertje Tillema (a cousin) (10/13/1857-05/15/1941). They had a daughter Hemke.
3. Ludina born 12/12/1855. She married Jans Stuitje. And
4. Hendrik (07/27/1859-10/10/1939).

VI. Hendrik Bulthuis was the owner of a grocery store in Wirdum. He married Jantje Arkema on May 10, 1883. Jantje Arkema was born on Dec. 30, 1862 daughter of Gerrit Jacobs Arkema and Hieke Van Dam. Jantje Arkema was killed during the battle of the Canadians against the Germans on April 26, 1945. She was evacuated to the house of her son in law, Klaas Dijksterhuis, but the Germans were shooting from the German island Borkum, north of Groningen and hit the house. Hendrik and Jantje had eight children.
1. Hemke (08/31/1883-04/28/1930) married Klaas Dijksterhuis (09/21/1877-01/28/1958) and the had three children: Harm, Jantje, and Hendrik.
2. Gerrit (02/16/1885-11/10/1959) married Janita Kremer (4/2/1887-05/2/1974), and they had five children: Hendrik, Harm, Jan, Grietinus and Jantje.
3. Jan born Dec. 17, 1887 married a Hendrita (according to Ellis Island records). He moved to the US with Hieke (Ike) in 1913.
4. Hieke (Ike) born Dec. 23, 1889 married Edward Teune. They had six children: Henry, Grace, Jean, John, Peter and Garret (my father, see Teune information).
5.Jacob born July 4, 1892 married Zwaantje Veldman (05/06/1887-11/21/1962). They had four children: Hendrik, Jantje, Jan and Trientje.
6. Harm (09/30/1895-09/08/1969) married Rikstje Van Eerden (11/06/1896-?, living Groningen as of 1979). They had six children: Jantje, Beelke, Hendrik, Aliejantje, Alje, Hemke Gerritdina.
7. Grieto (08/20/1898-?) married Geertruida Paapst. As of 1979 they were living in Garrelsweer and have four children: Jantje, Harm, Hendrik, and Wiea.
8. Frouwke (04/23/1908-?) married Garrit Bos. As of 1979 they were living in Loppersum and have six children: Derkje, Jantje, Anje, Gerrit, Hendrik, and Jan.


---
---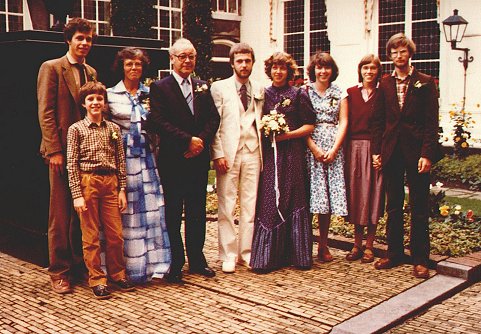 This is the picture of the Bulthuis relative who visited us in 1979. From left to right are: Harry, Wim, Nell, Henk, Cor Broekema and Nelleke, Dineke, Rietje, and her fiance, Klaas Holwerda.
---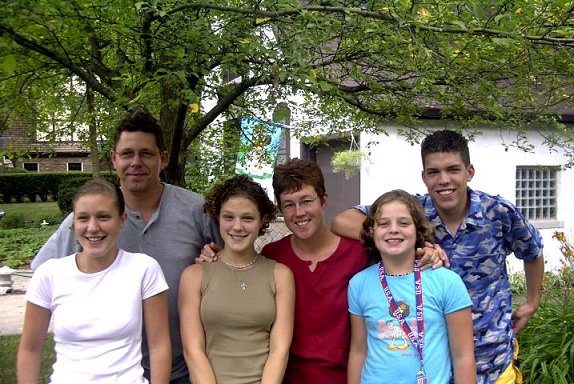 Here is a picture of son Harry's family today in the Netherlands.
---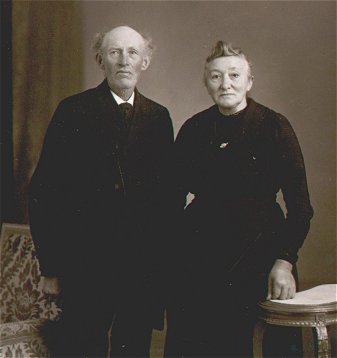 Here is a picture of Hendrik and Jantje Bulthuis.
---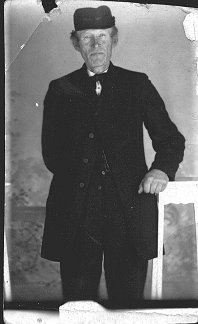 Here is a picture of Hendrik wearing a cool hat.
---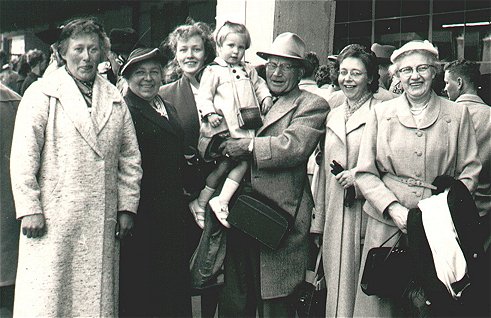 In 1955 Edward and Helen (Bulthuis) Teune travelled by ship back to the Netherlands to visit her family. Helen is on the far right. Edward is the man in the middle and Helen's youngest sister Frouwke is on the far left.
Below is Helen's note on the back of this picture.


---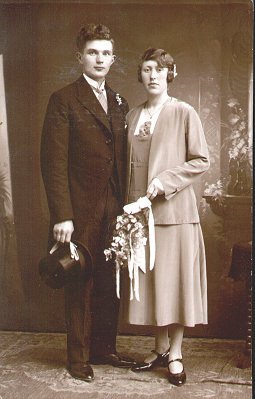 And last but not least is a wedding picture of Frouwke (Frauke), Helen's youngest sister.
---